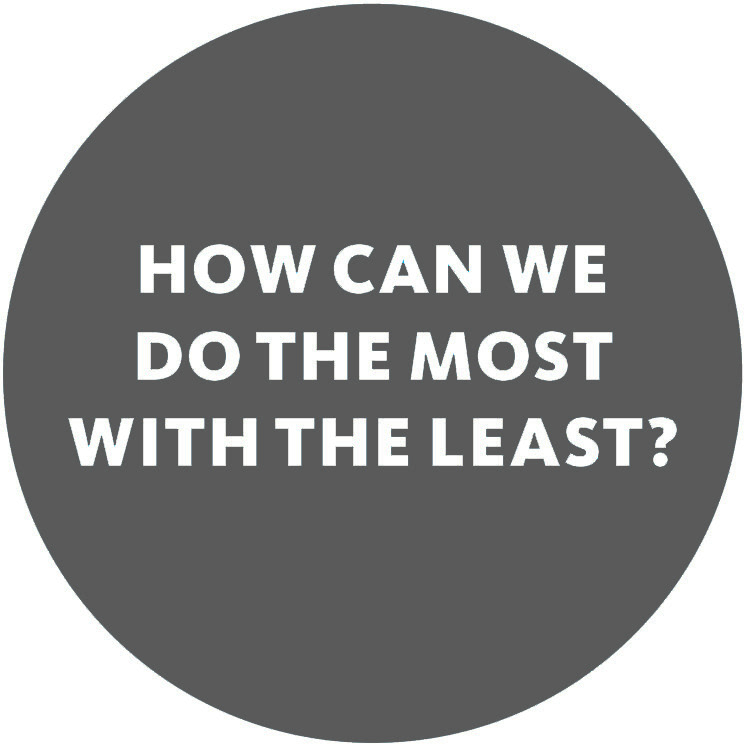 Using limited resources and proposing micro-interventions within our cities, how can we truly make the most impact with the least resources used?  Through every day work, there tends to be a large focus on servicing large entities. It is our responsibility to take a step back and consider the under-served community within our practice.
The final intervention will be scalable to all cities, using mass transit as a spring board for equal access to opportunities and resources.
Over the course of the summer, our team was tasked with a prompt that had multiple interpretations. With no solid direction on where to begin, we started to explore. 
Our project direction twisted and turned, expanded and condensed, until we finally found a way to connect the dots. 
The culmination of our efforts was paved by the insightful interactions we had with local heroes, leading professionals, and community members of various backgrounds. Without them, our process and product wouldn't be rooted in the idiosyncratic qualities of the community.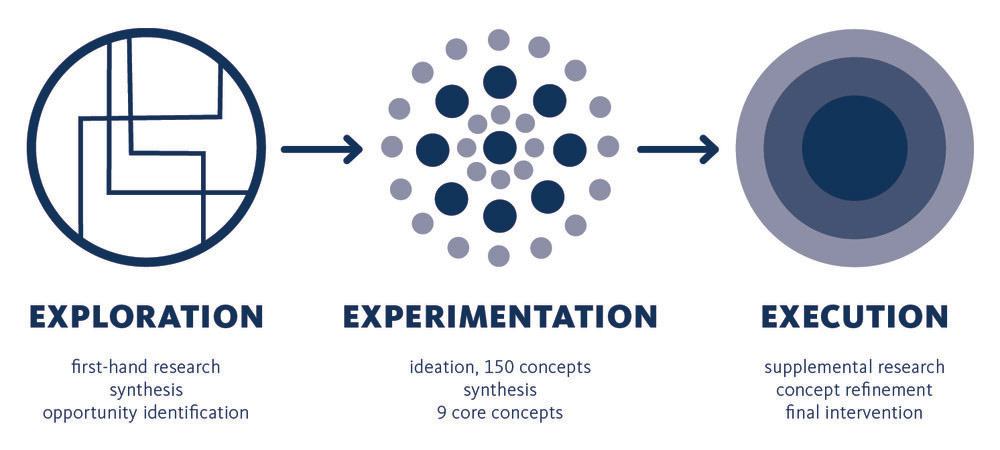 Our team travelled through Chicago , Minneapolis, and La Crosse along four different public transportation lines. Based on secondary research, our groups chose various stops along the lines to explore. Journeying to these stops, we conducted observational research, gathered photo documentation, and spoke to community members.From here, we identified opportunity points for each.
We identified the 'ingredients' to commuting i.e. comfort, safety, security, identity, context, way finding, orientation and signage. We focused on three of these stations as they amplified the ingredients to commuting.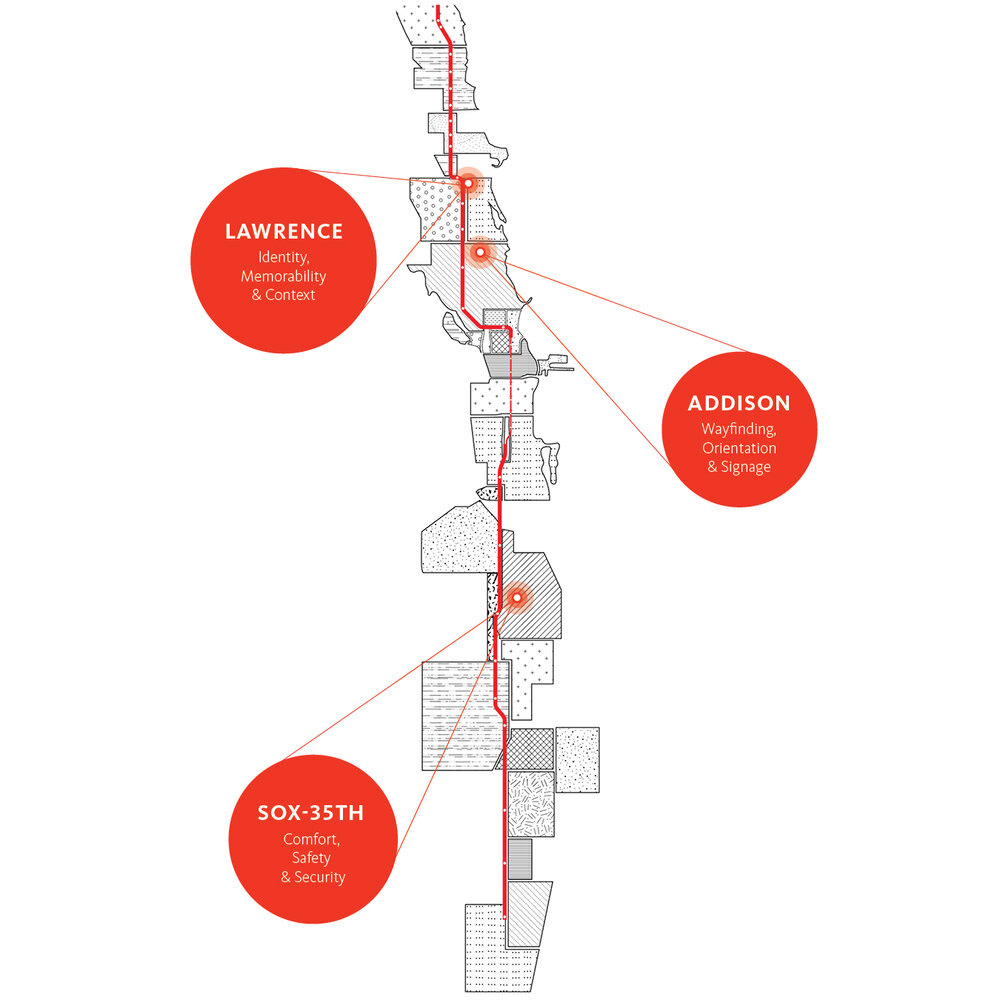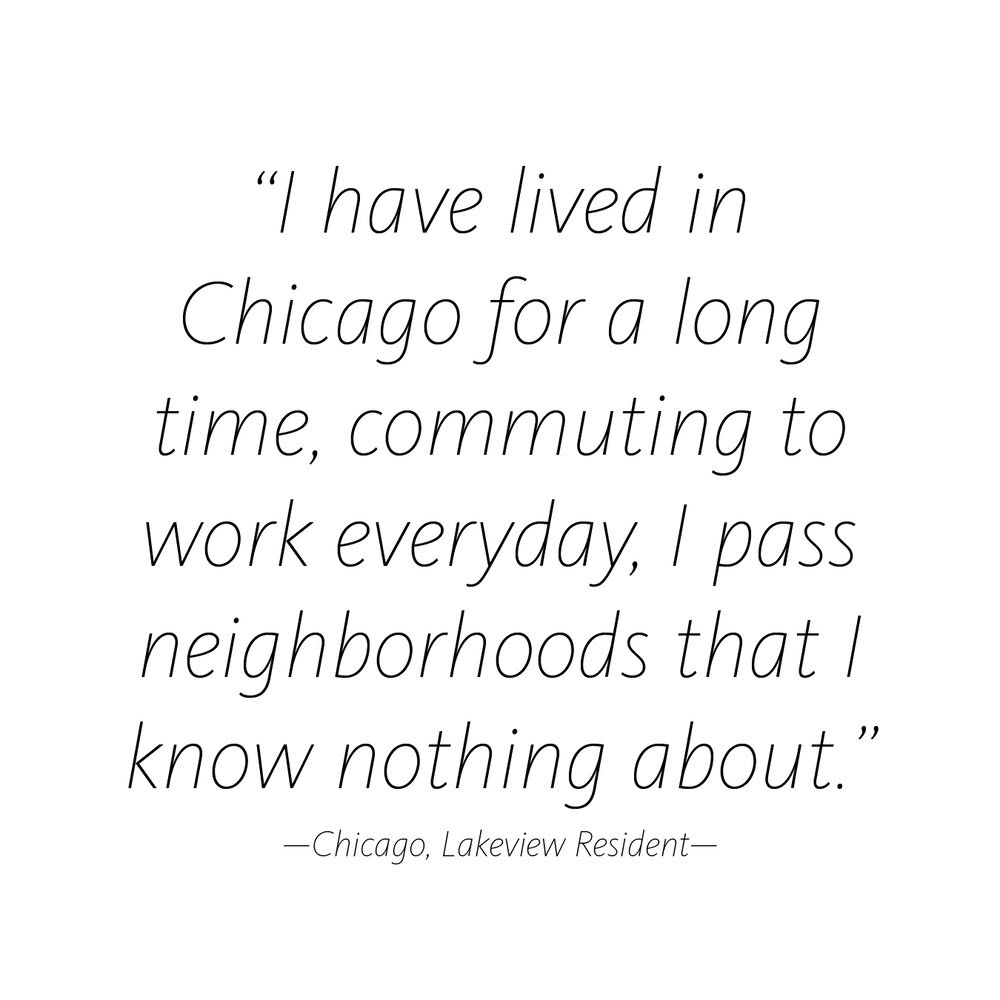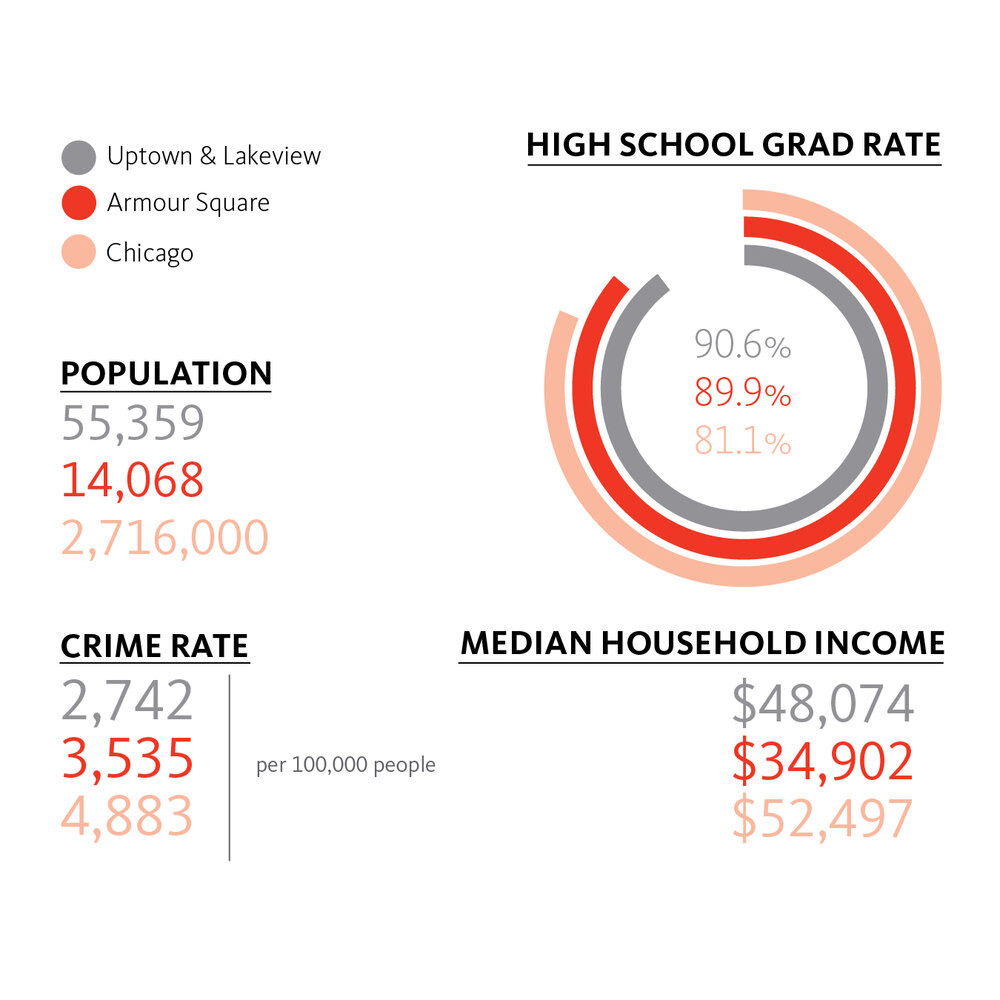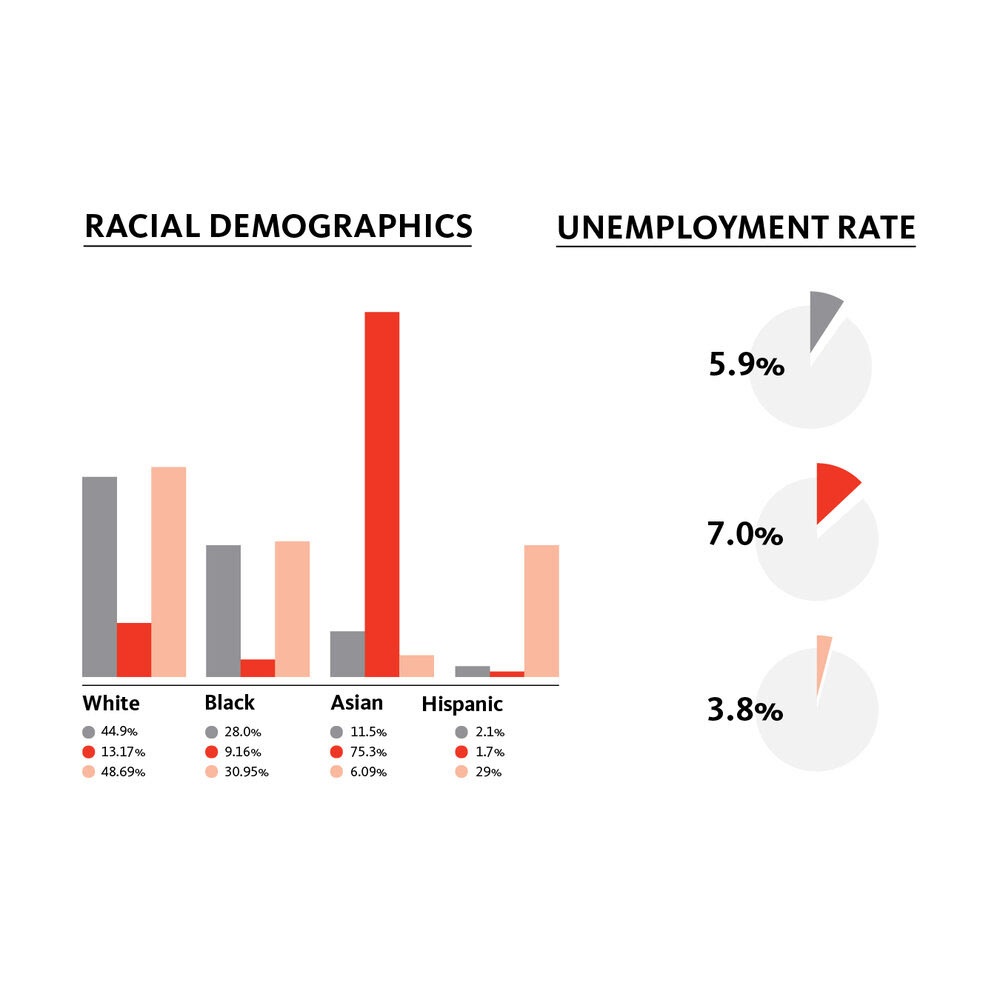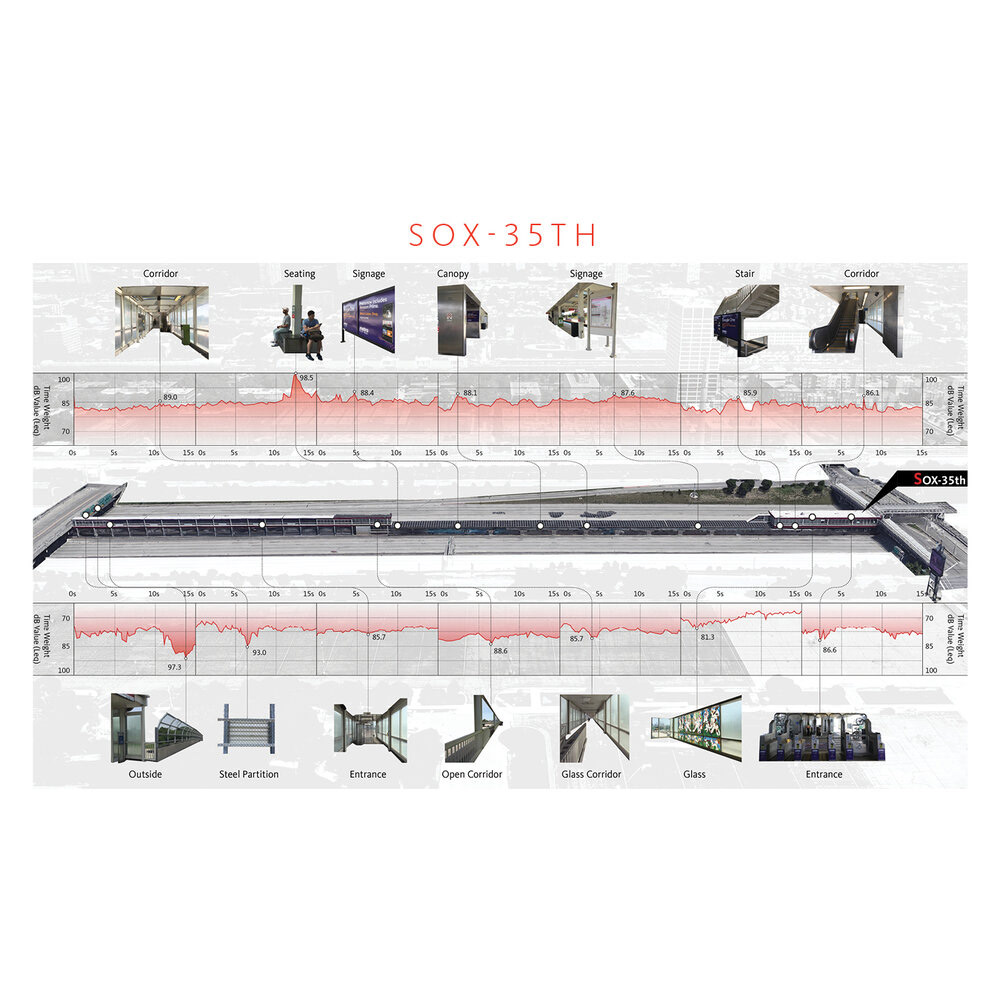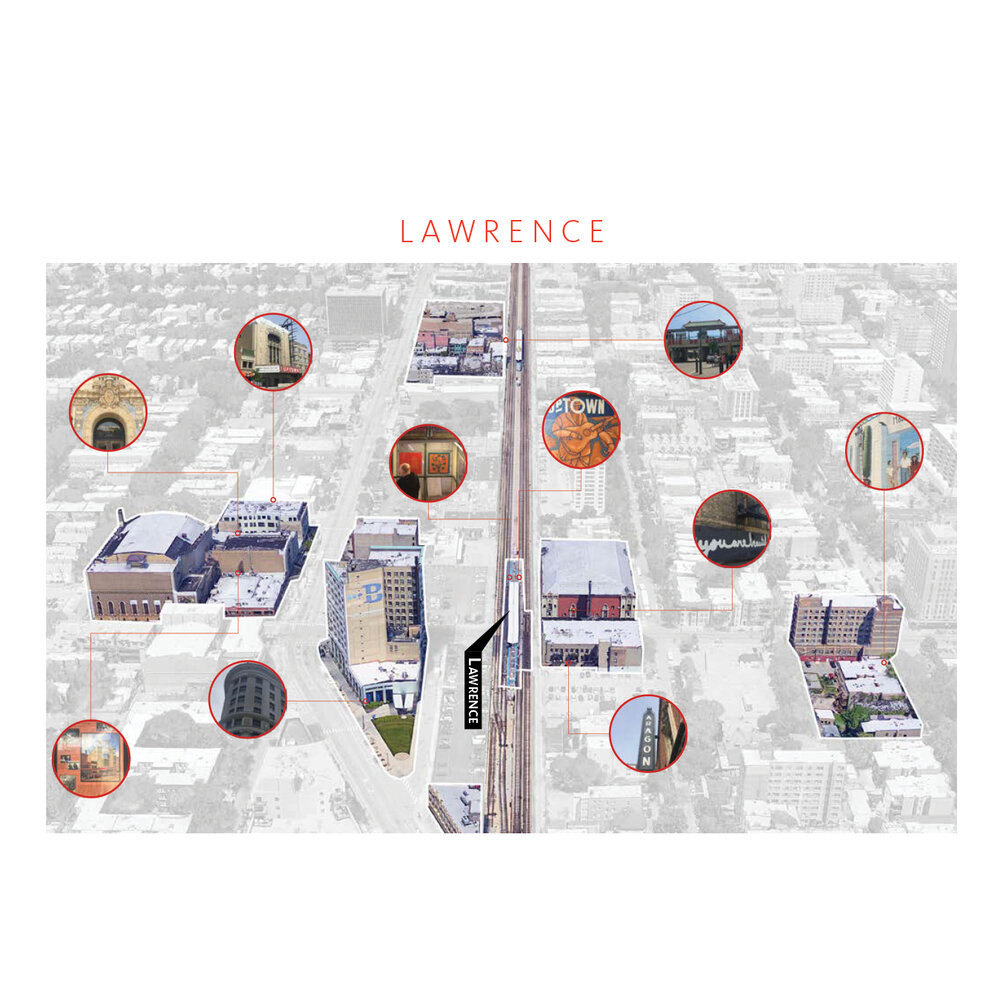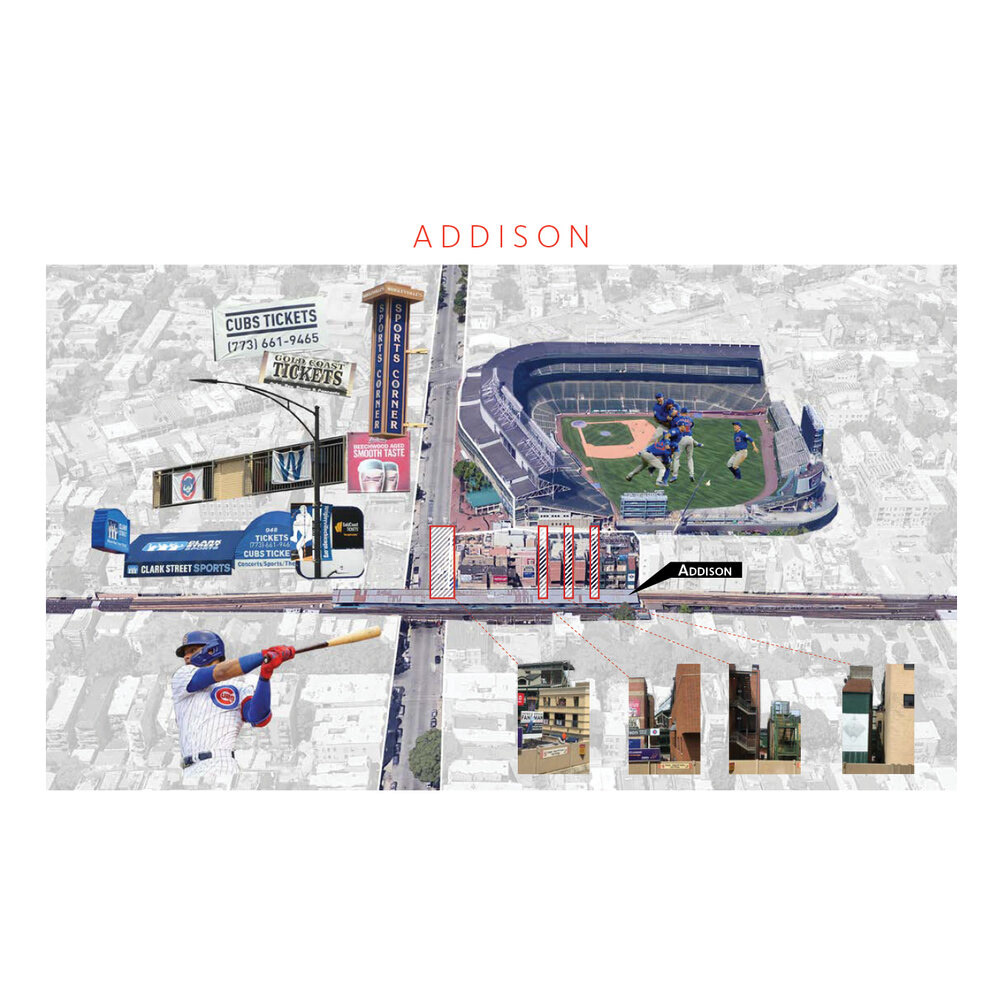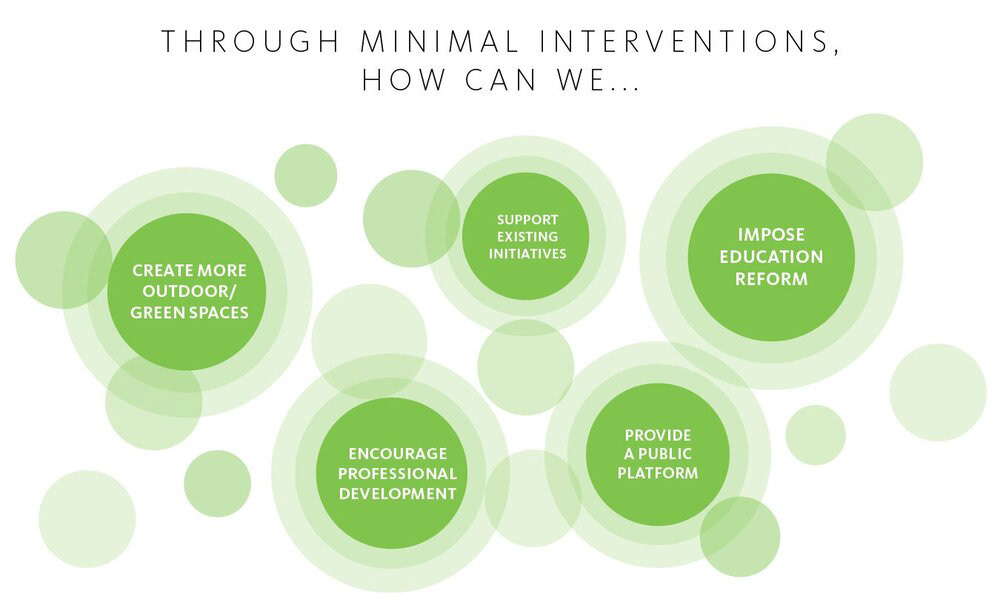 Through our findings, we came to focus on two stops of the Green Line that were prominent to the most distressed neighborhoods in Chicago.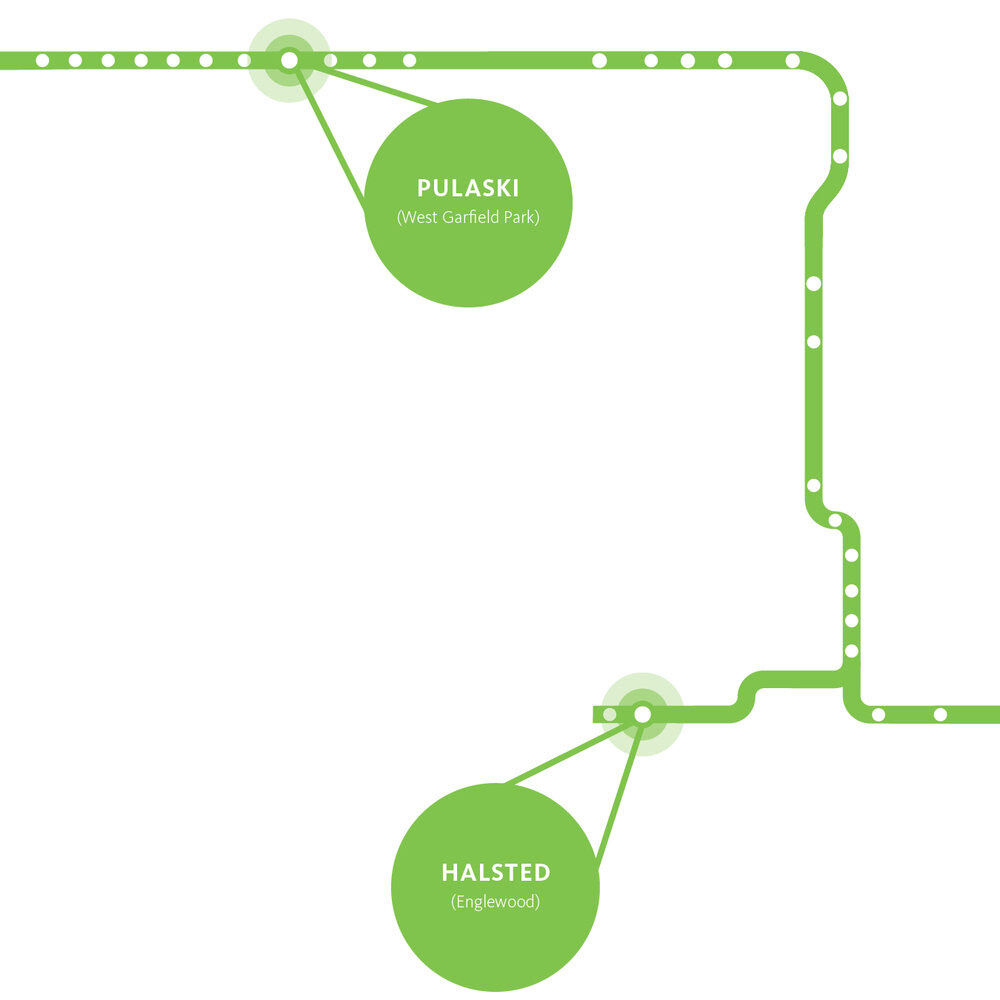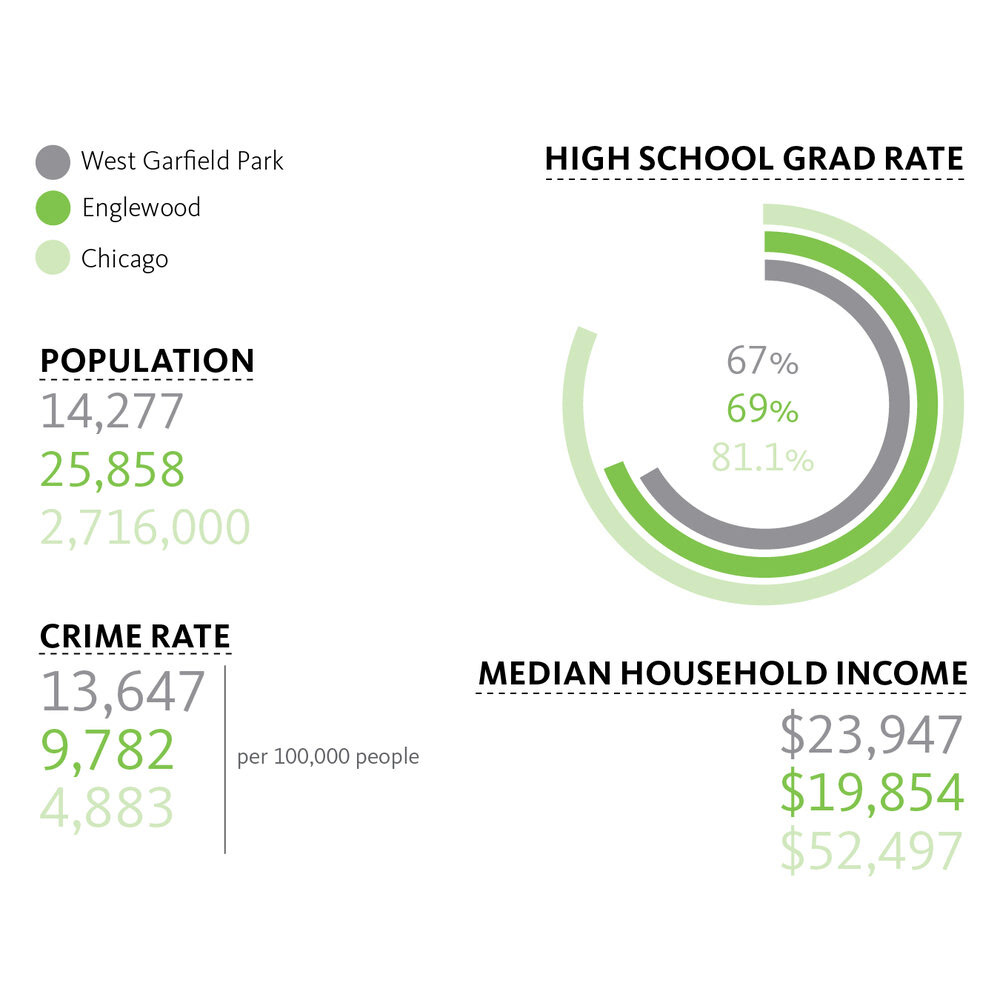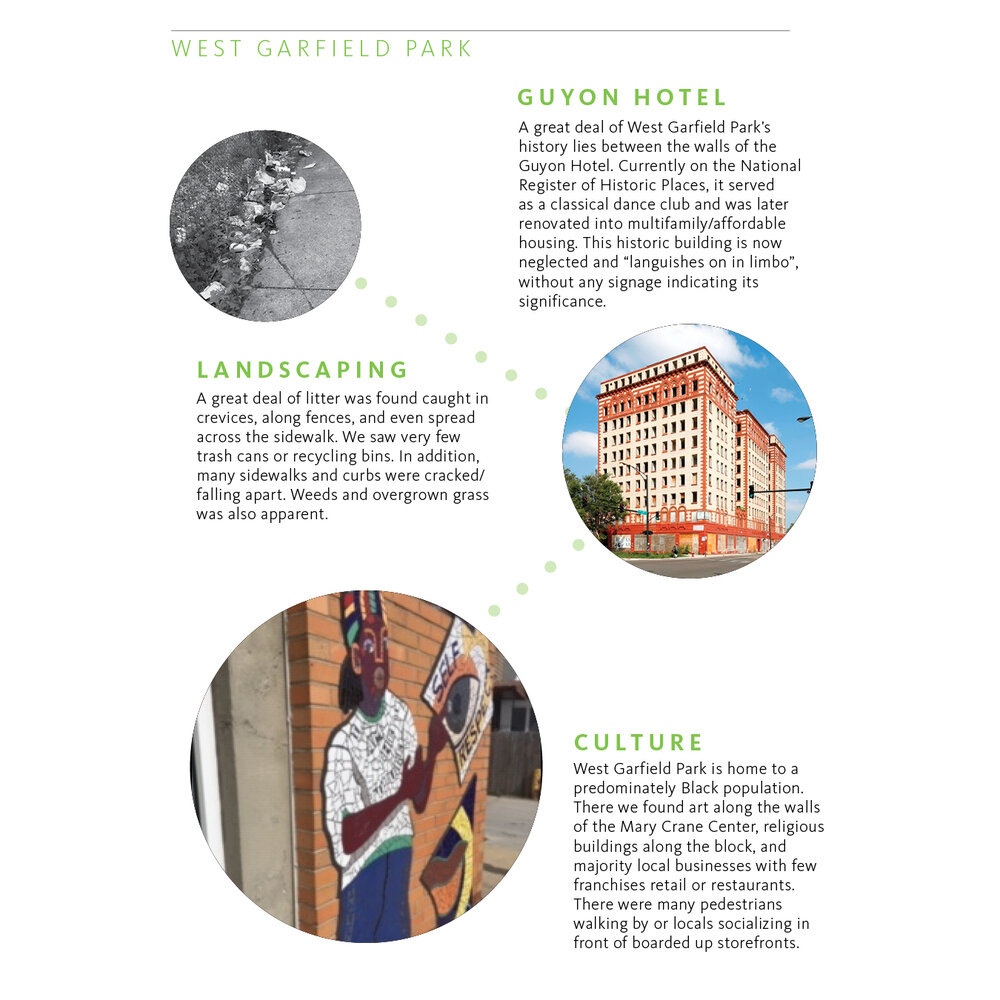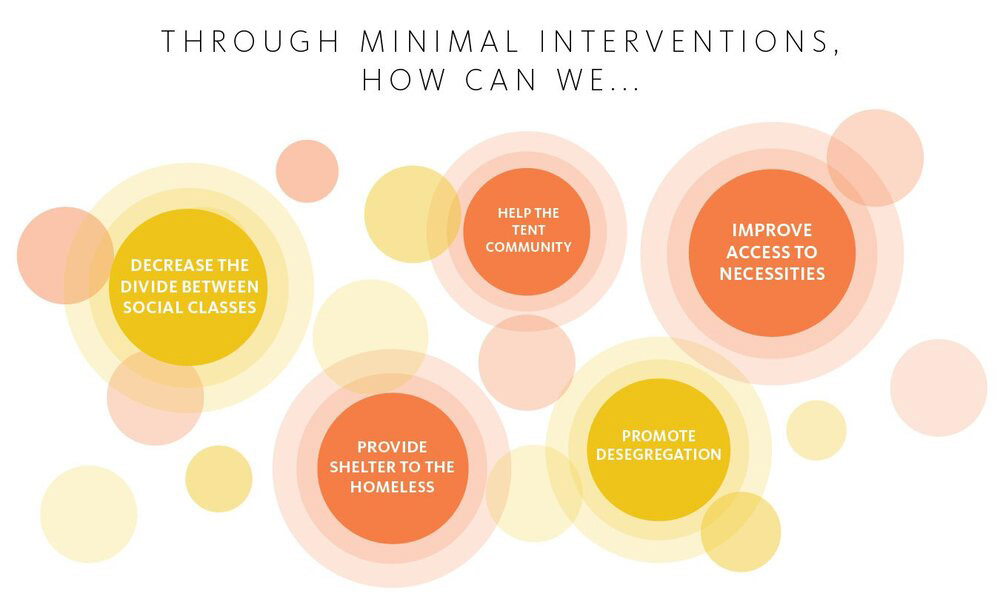 Travelling around different neighbourhoods in Minneapolis we were able to gather valuable insights from a diverse set of locations as well as people. La Crosse presented another perspective into urban living on a much smaller scale. Instead of focusing on the public transit infrastructure, we honed in on the communities themselves.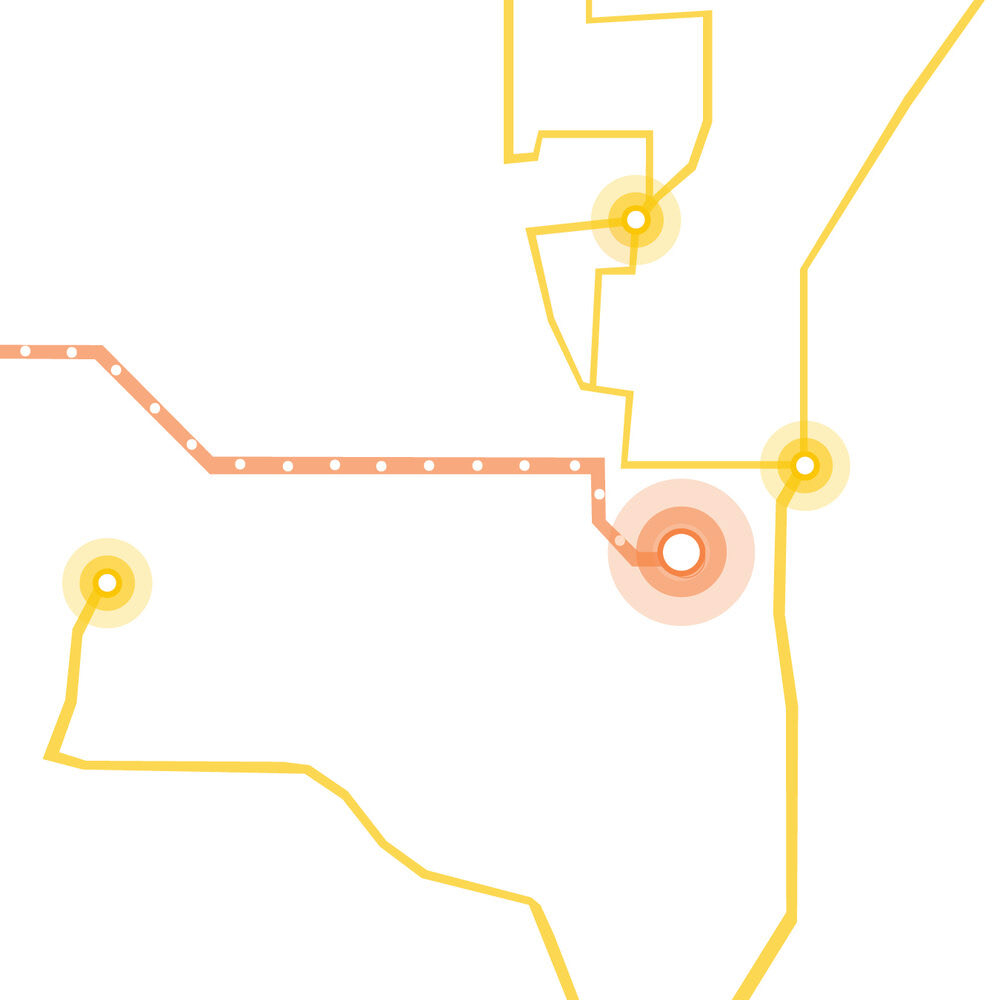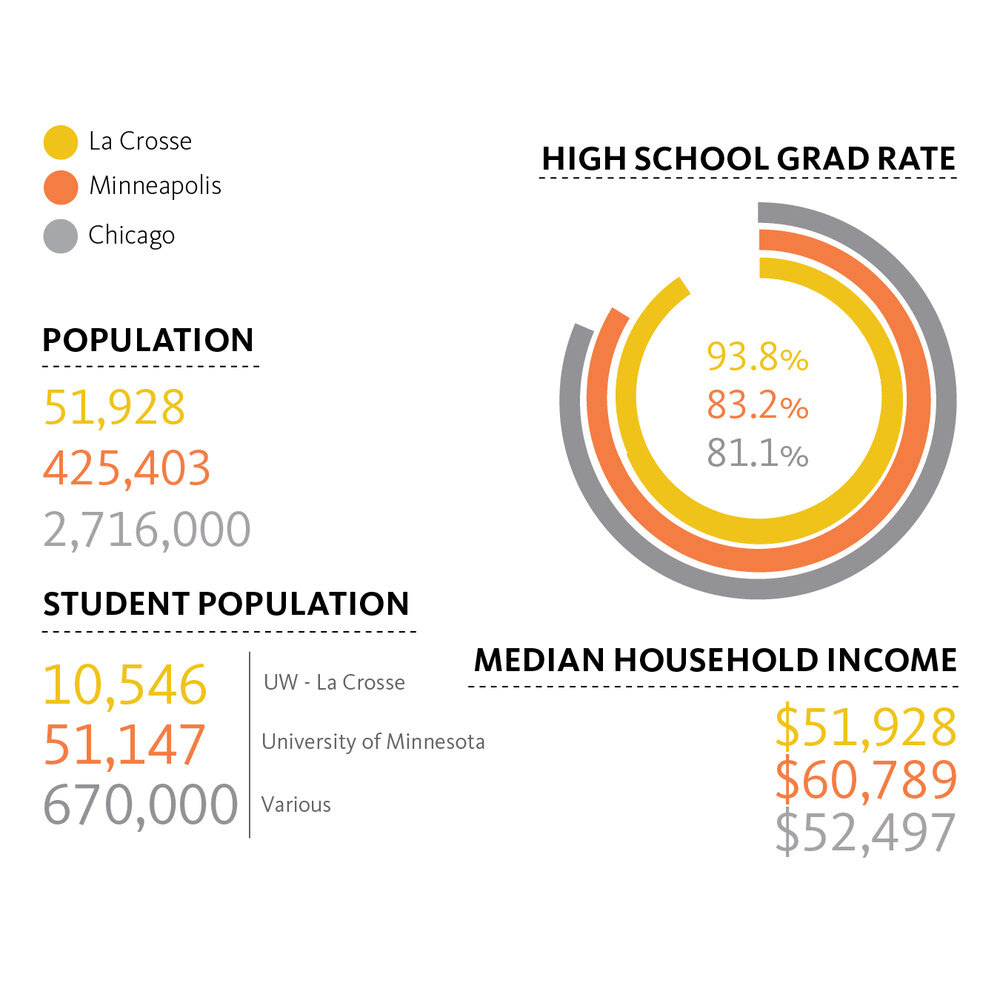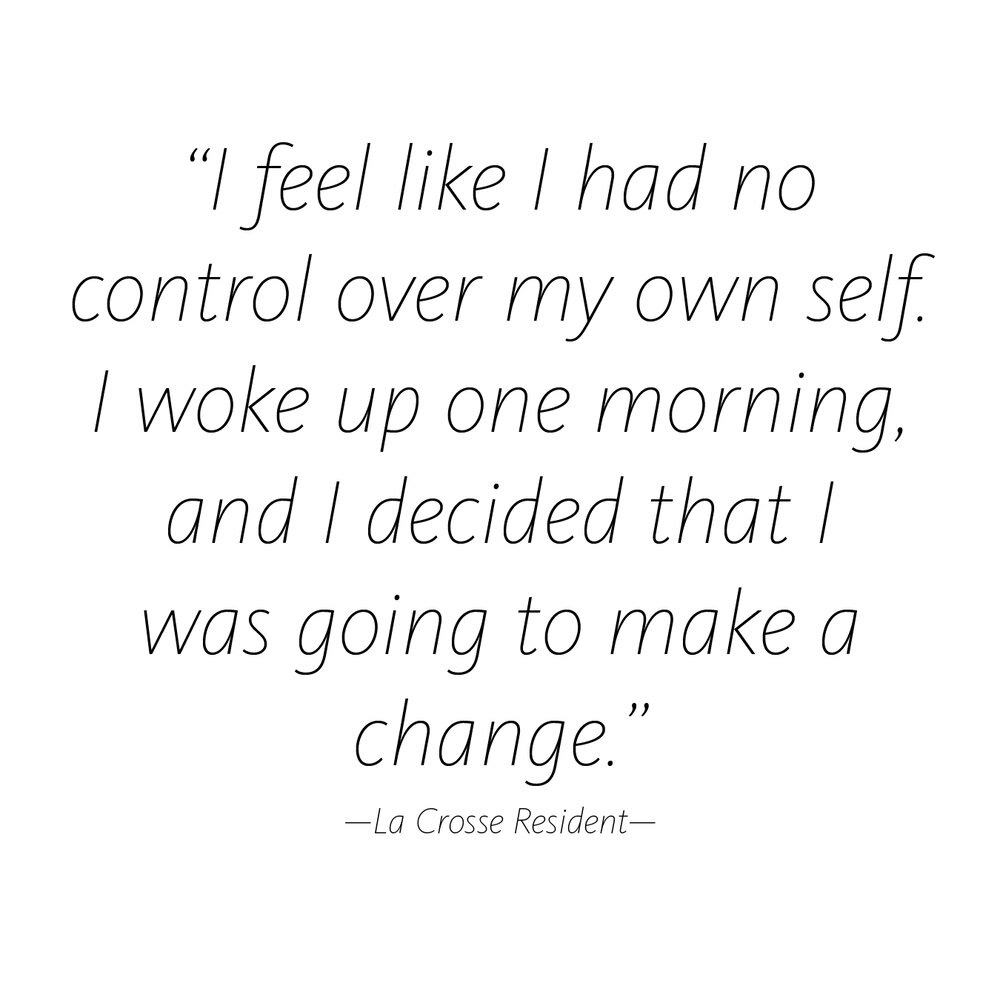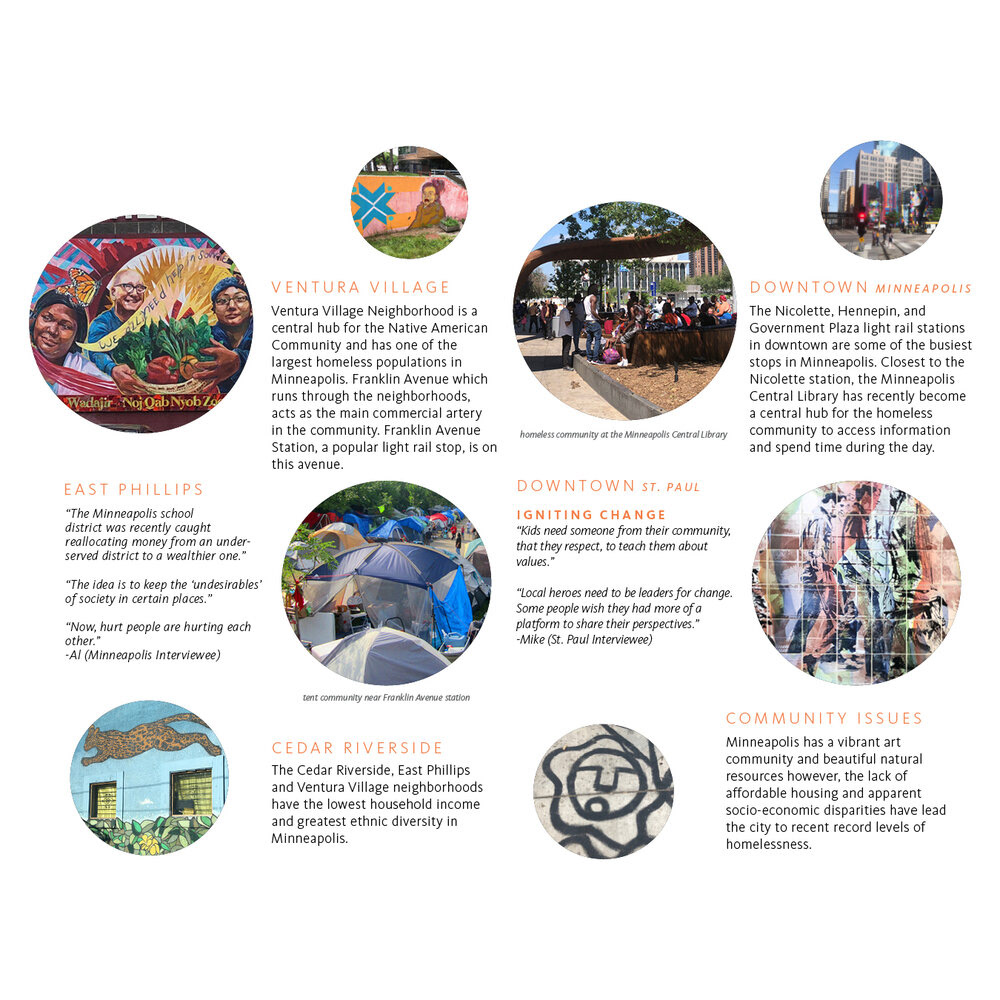 Informed by the exploration phase research and inspired by the communities we explored, Our groups ideated 150 interventions. we then conducted secondary research and developed 9 potential interventions.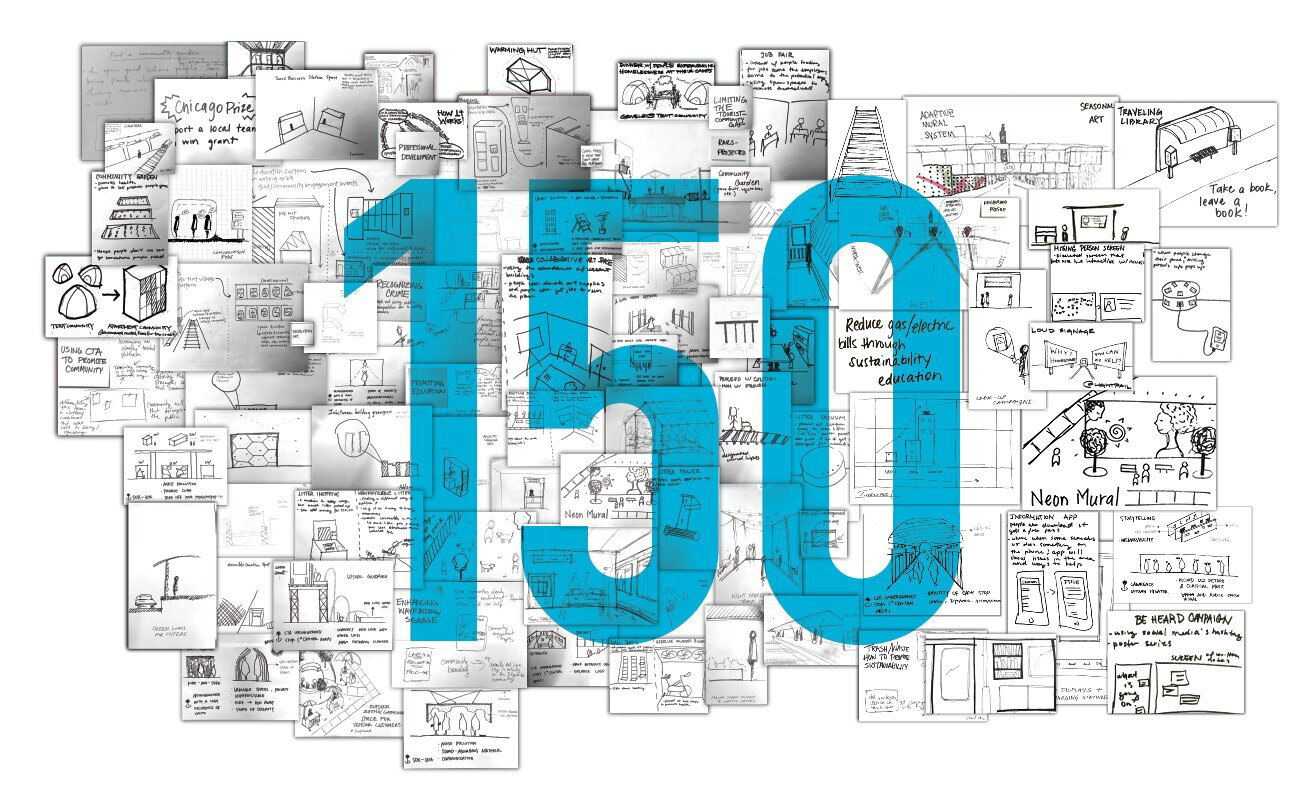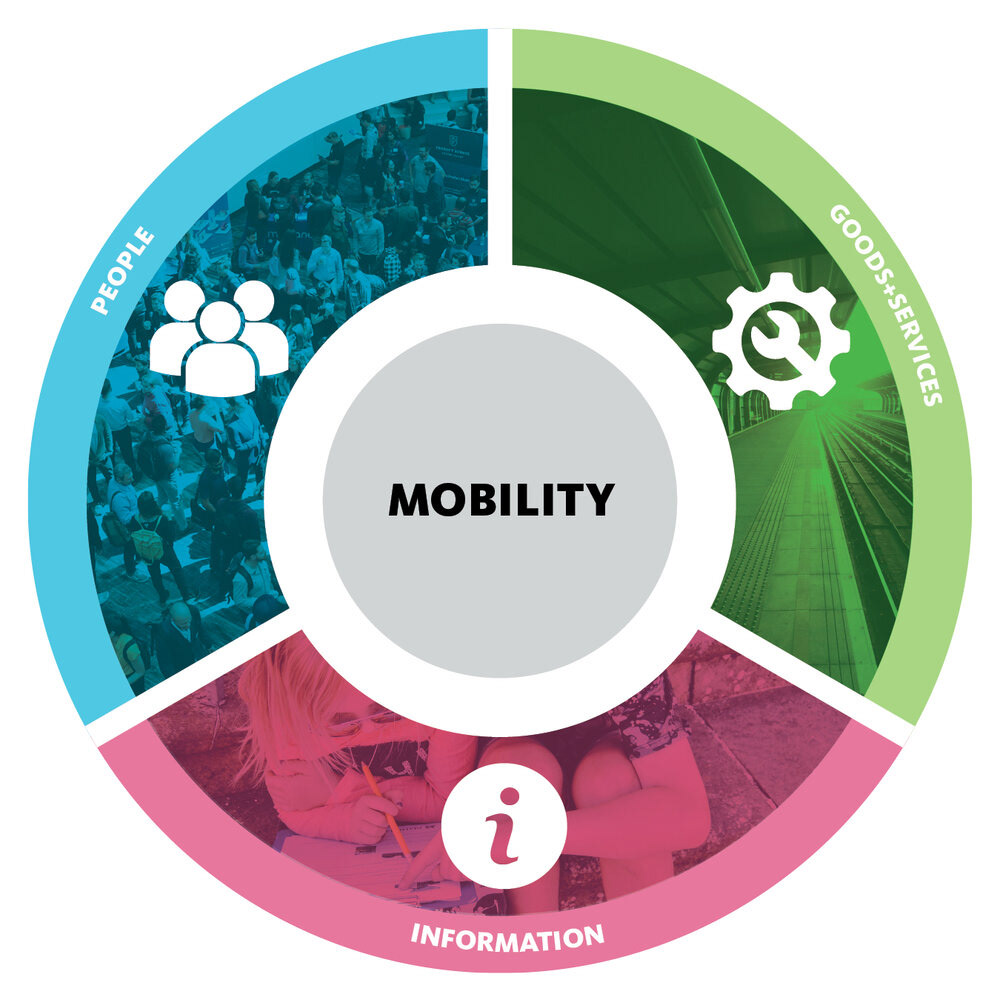 Based on the insights from the first phase, we defined mobility as the movement of People, Goods + Services, and Information. We then identified various topic areas for each of these mobility categories.
People 
Well-being, Safety, Residences, Jobs, Accessibility, Way finding, Inclusion, Community, Purpose 
Goods + Services 
Economic Development, Utilities, Entertainment, Retail, Produce, Sustainability, Green spaces, Waste
Information 
Education, Public Platform, Community Programming, Media, Technology, Way finding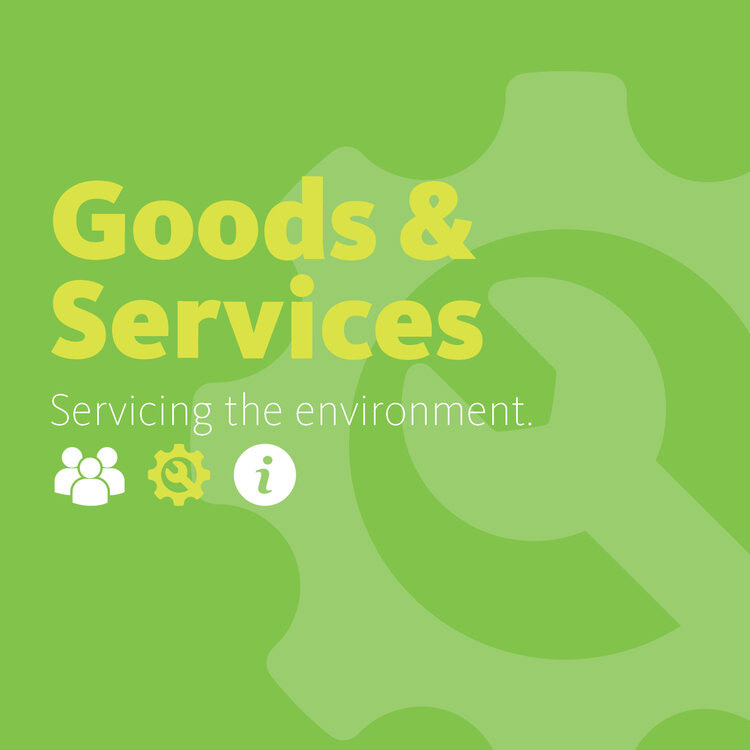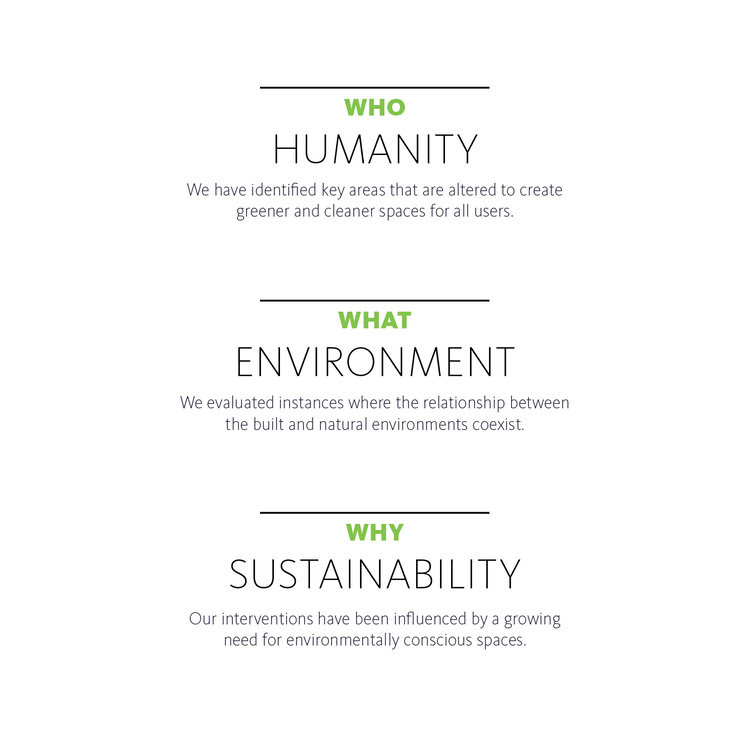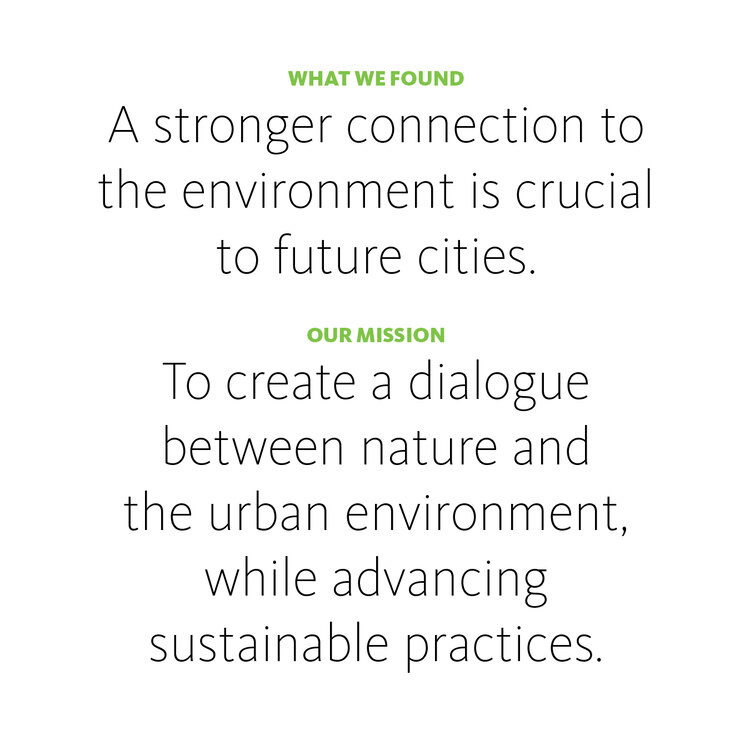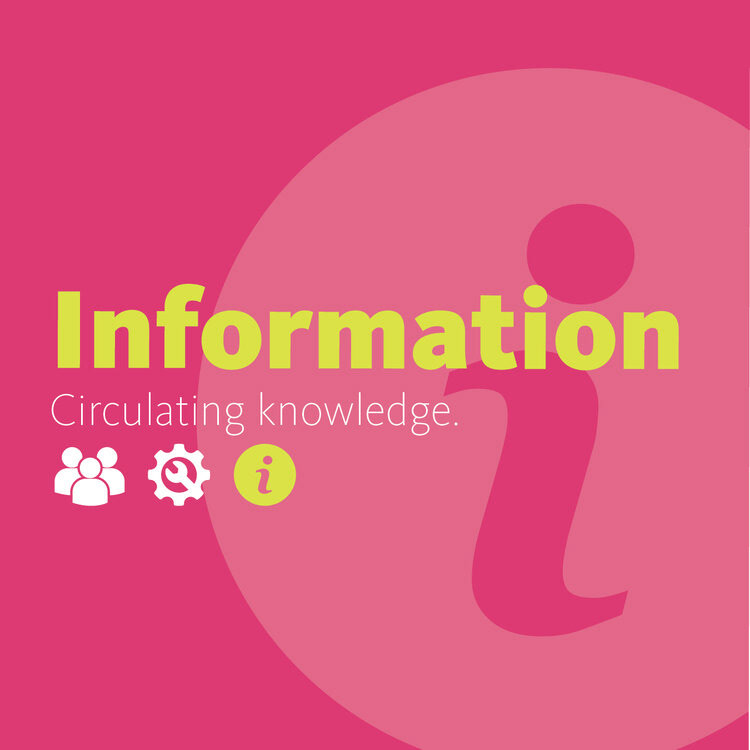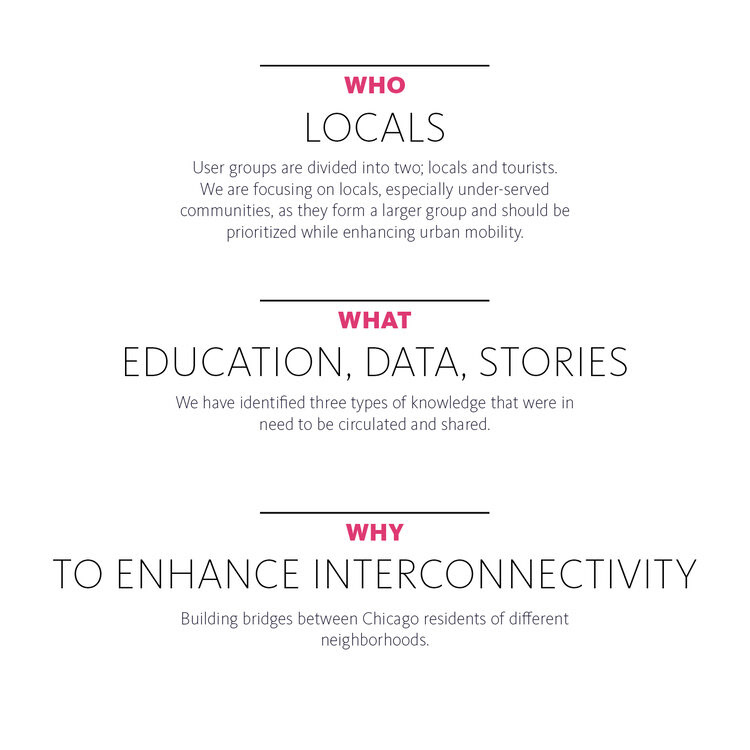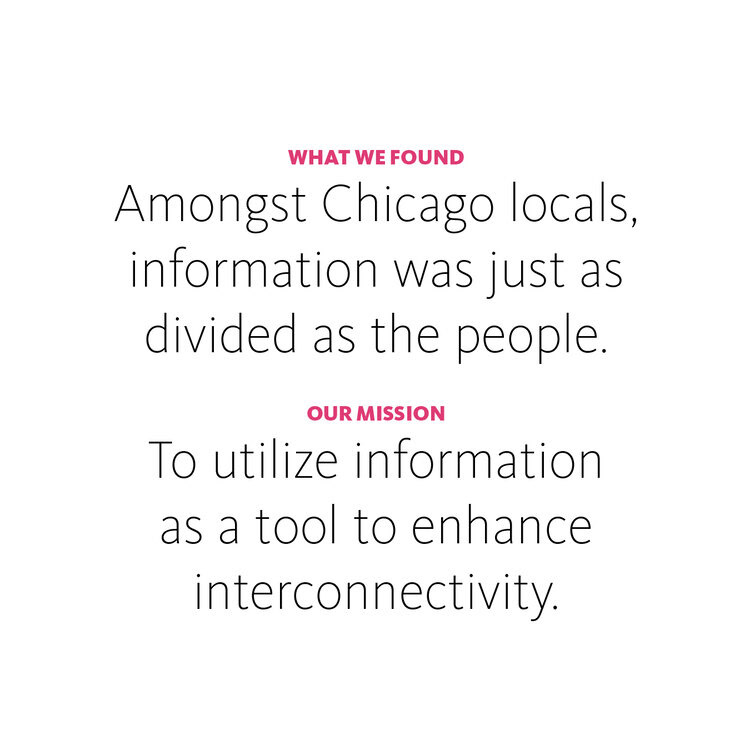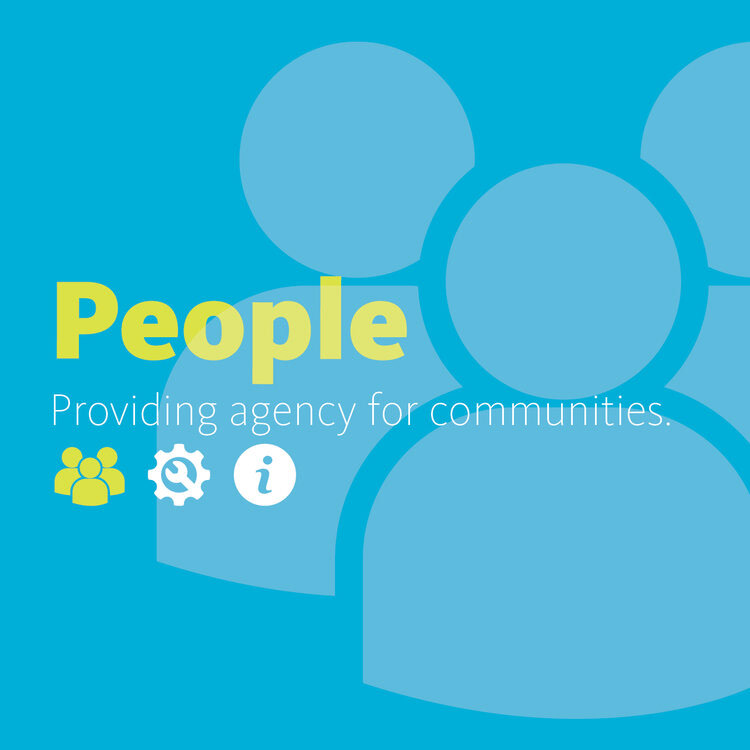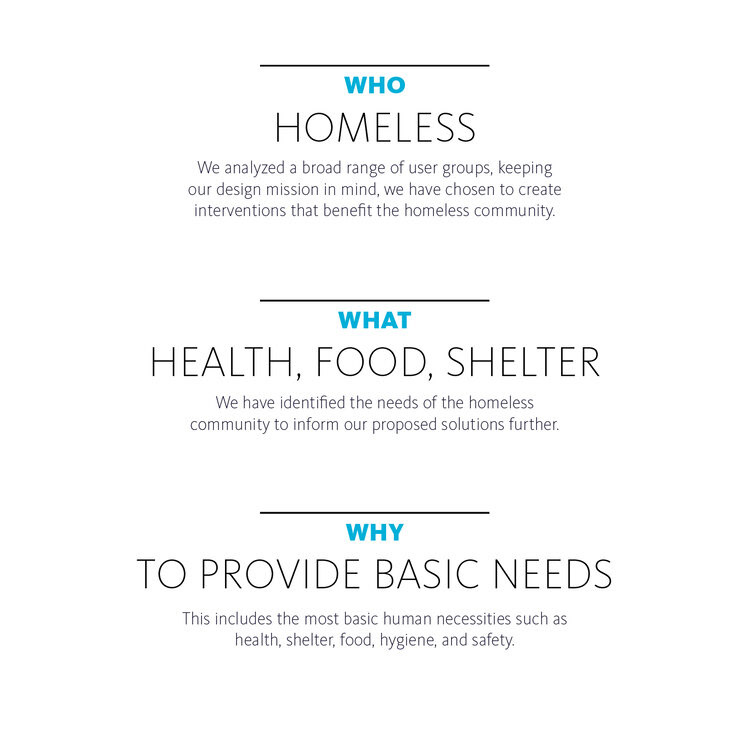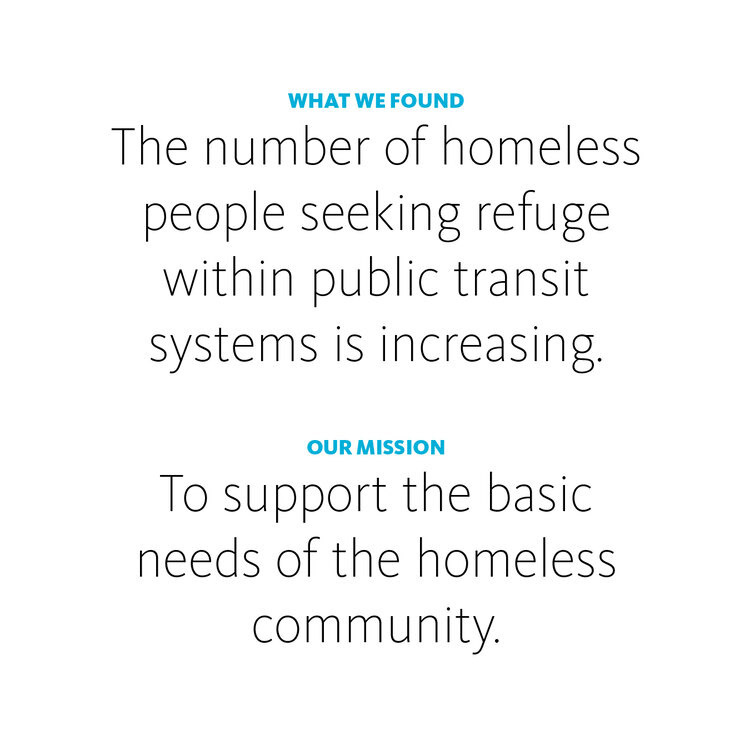 Interventions & Feedback Synthesis
We took our 9 interventions and highlighted the positive and negative feedback for each of the interventions. From here, rather than focusing on the physicality of each idea, we identified the key theme of each intervention.
(ALL INTERVENTIONS ARE BASED OFF OF RESEARCH GATHERED IN PHASE 01, ALONG WITH SUPPLEMENTAL RESEARCH. PLEASE REFER TO THE FULL PDF FOR THIS INFORMATION.)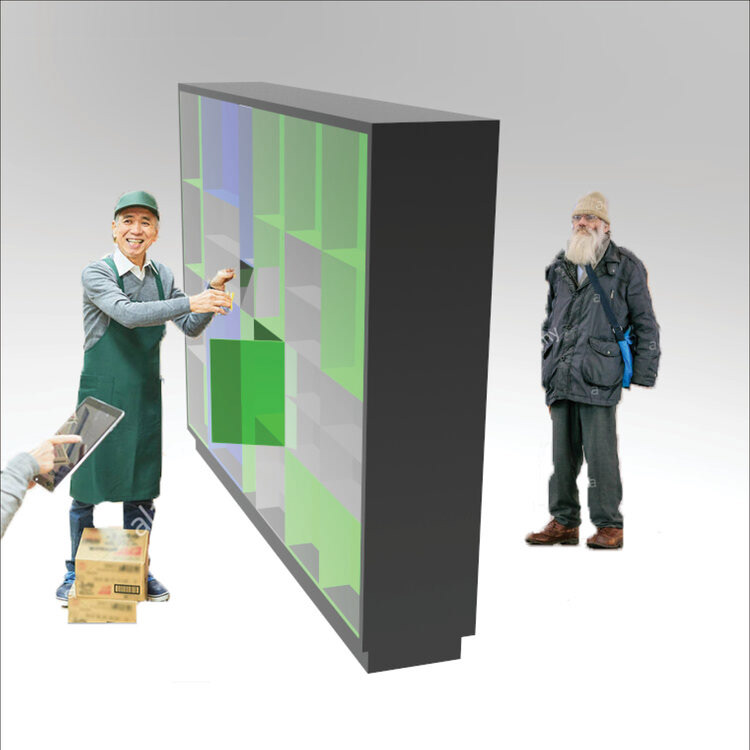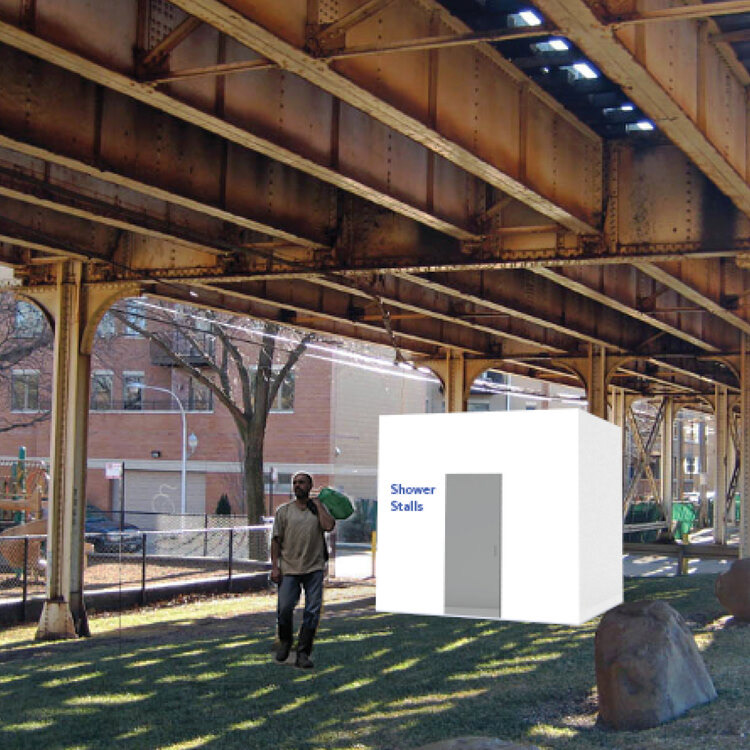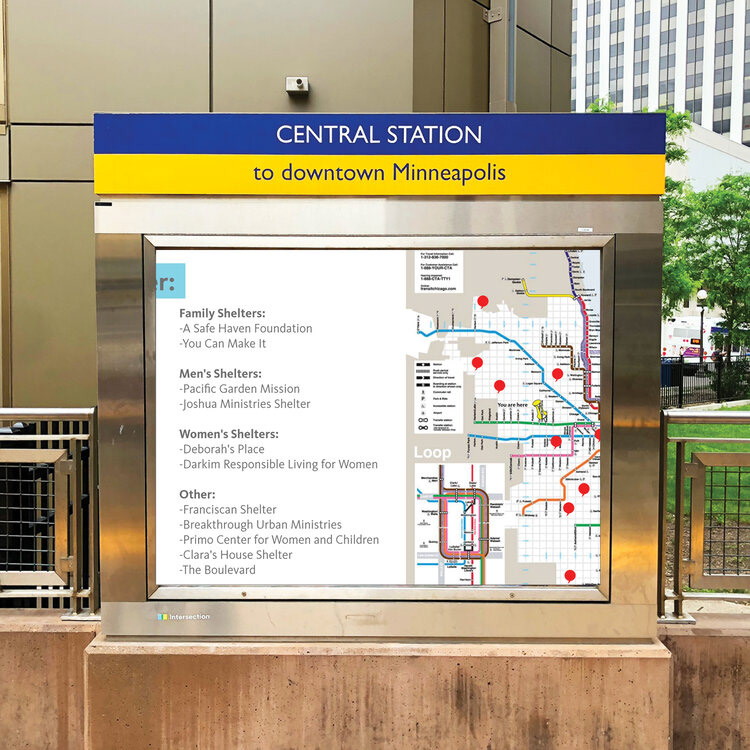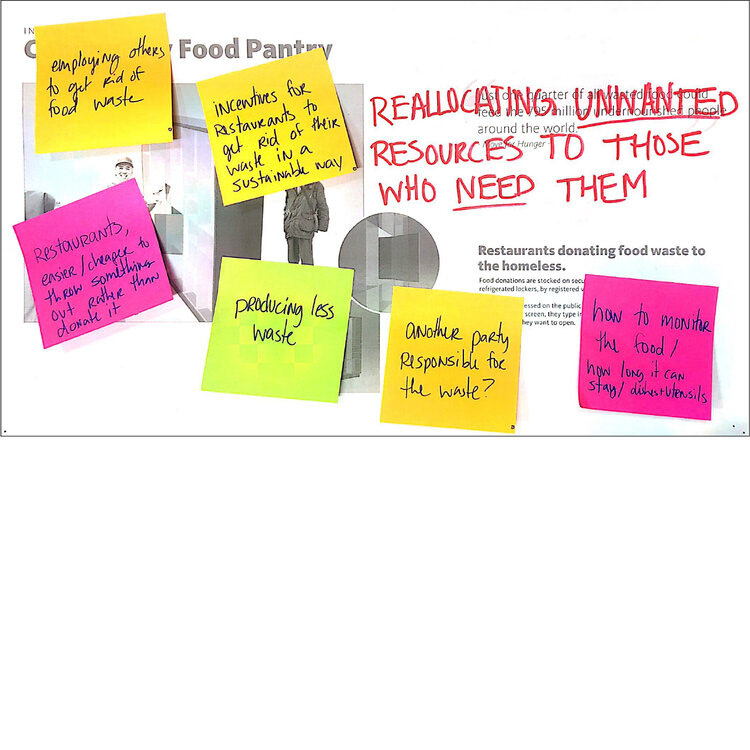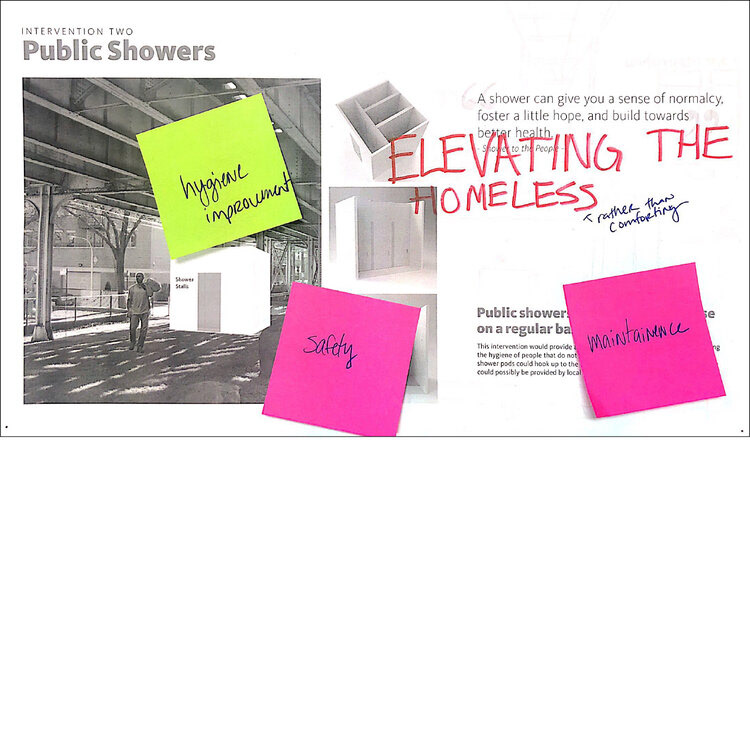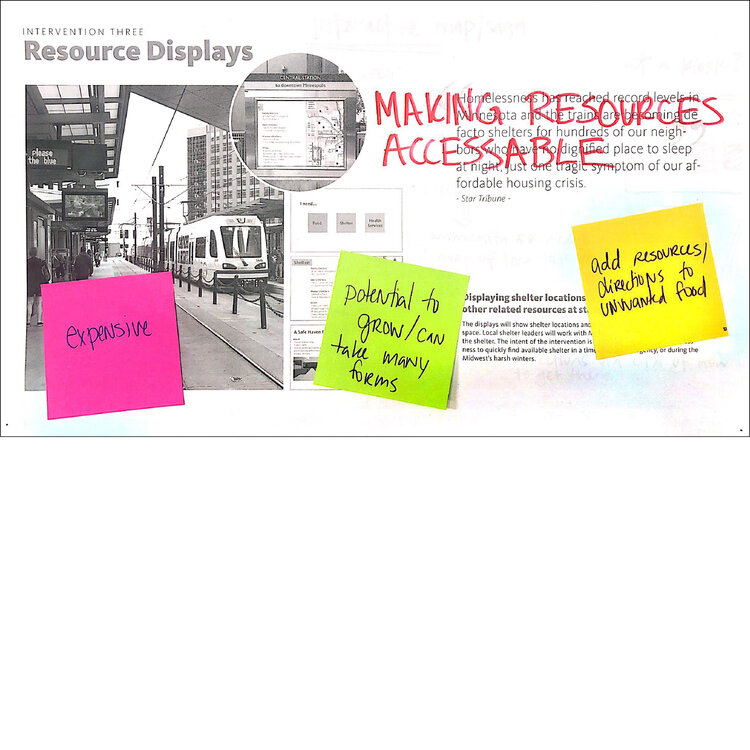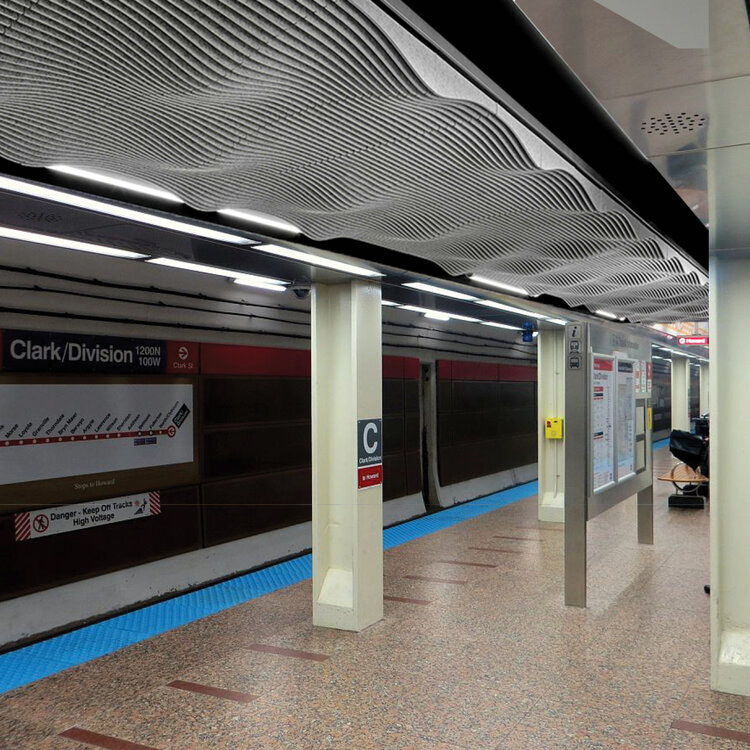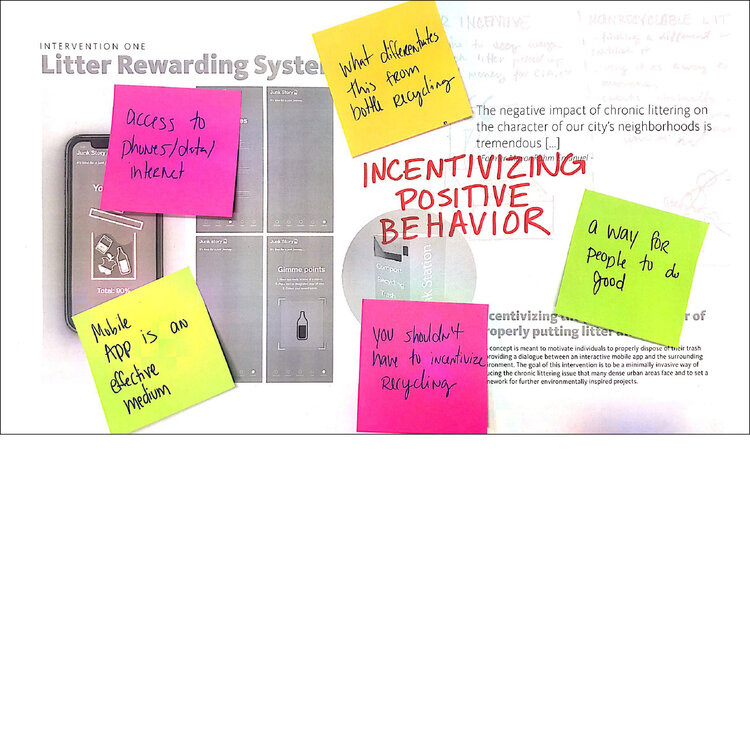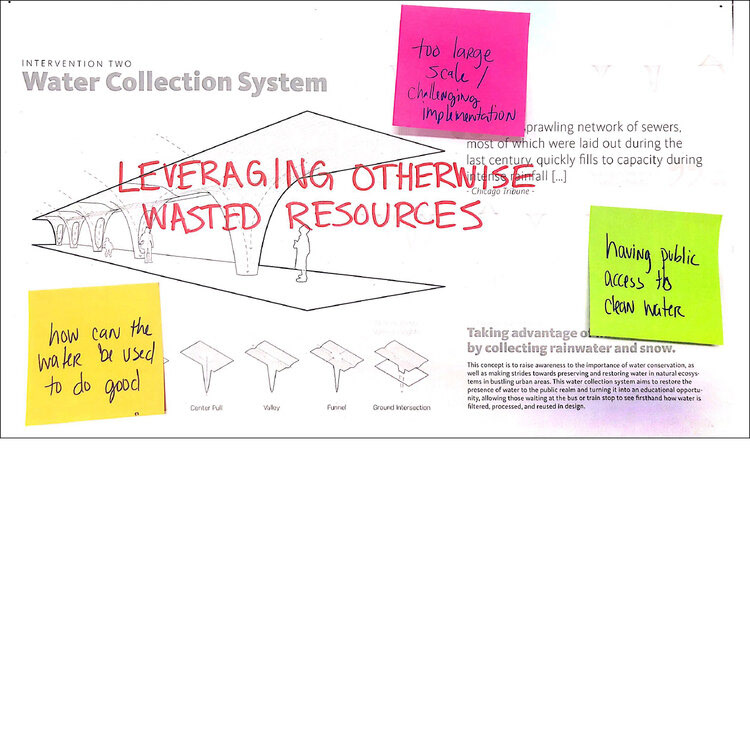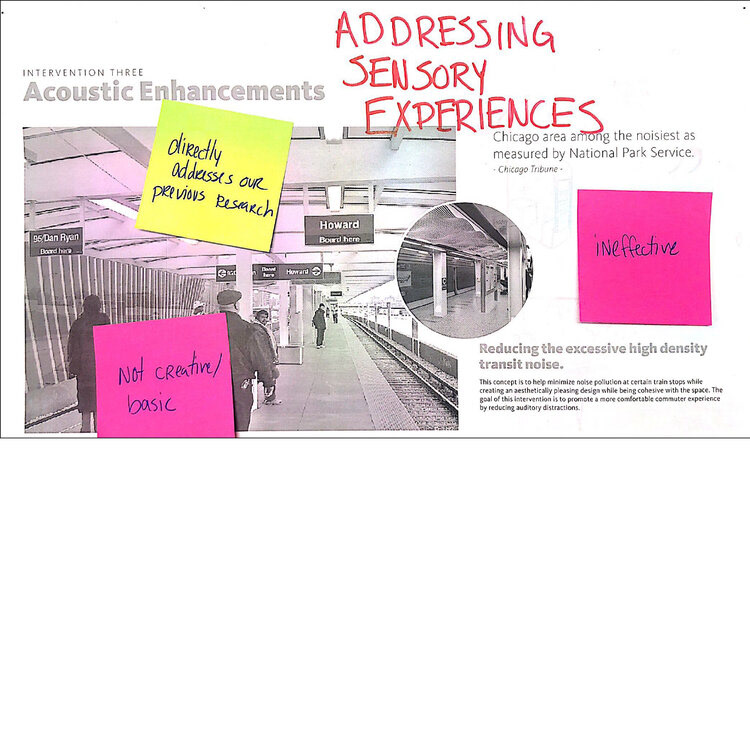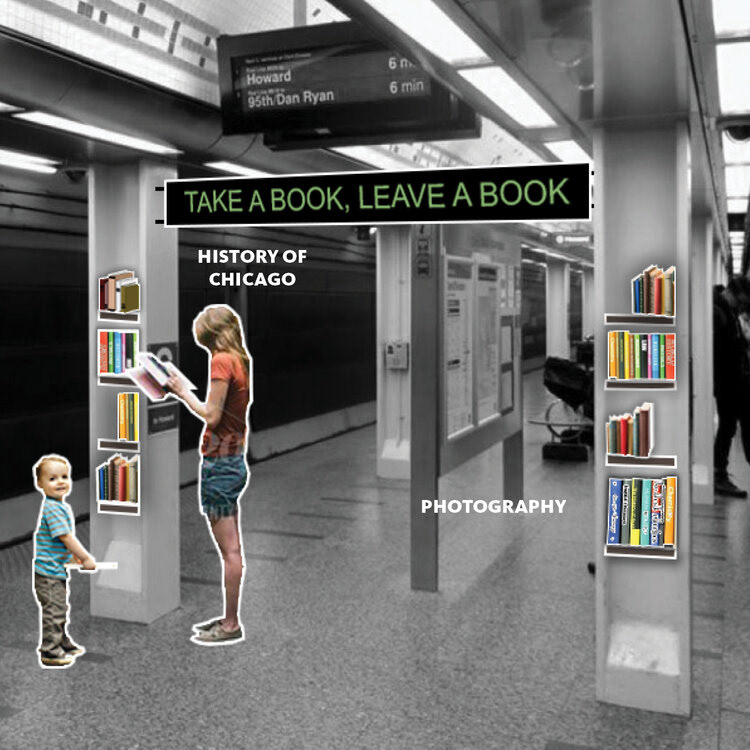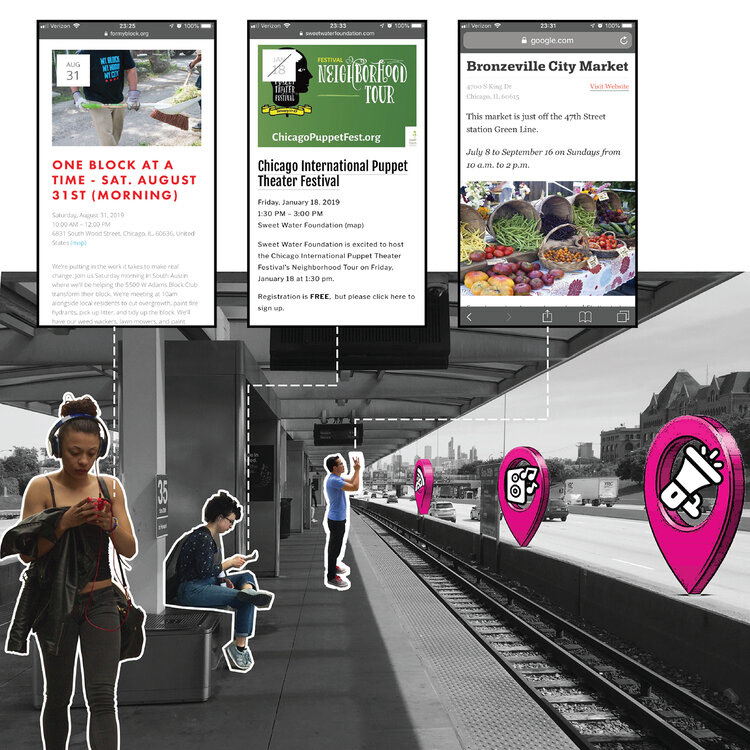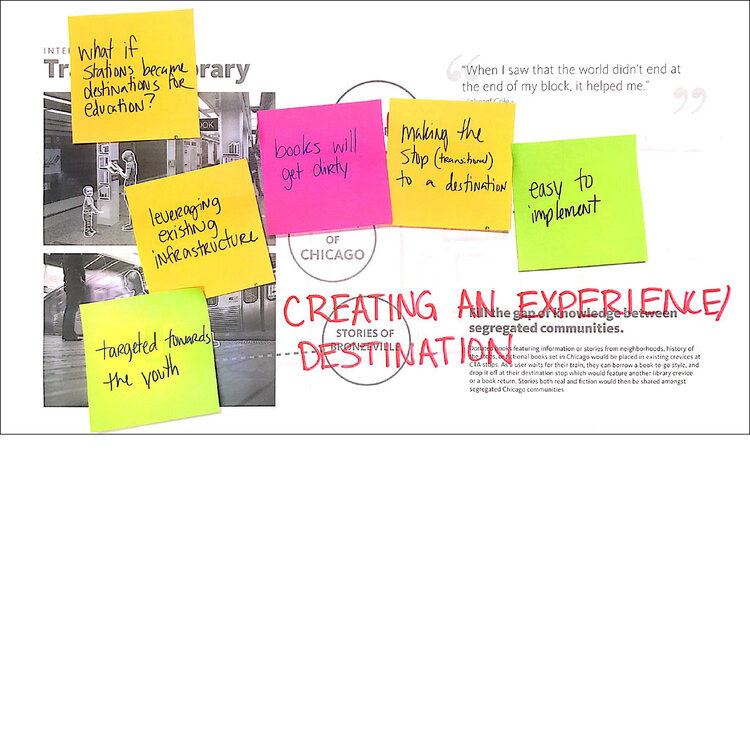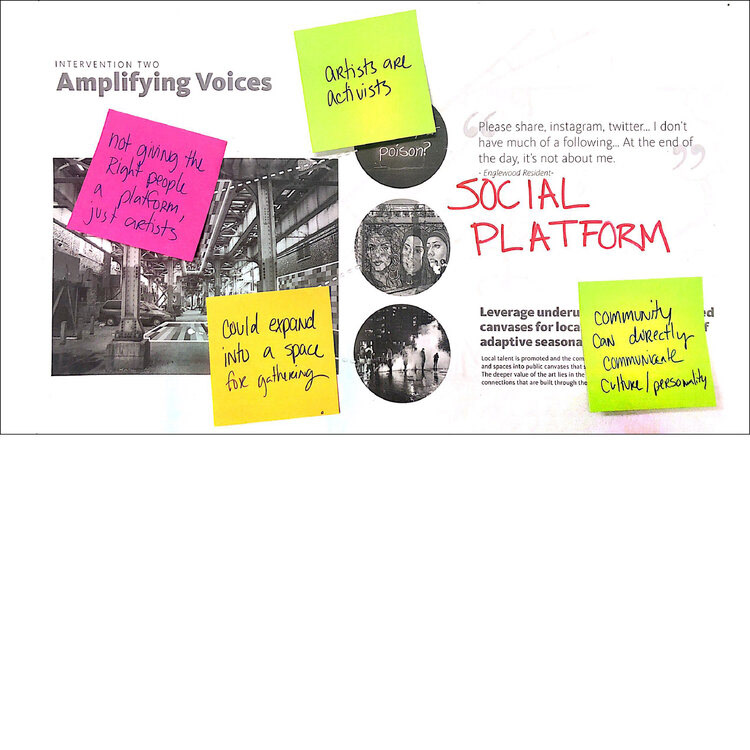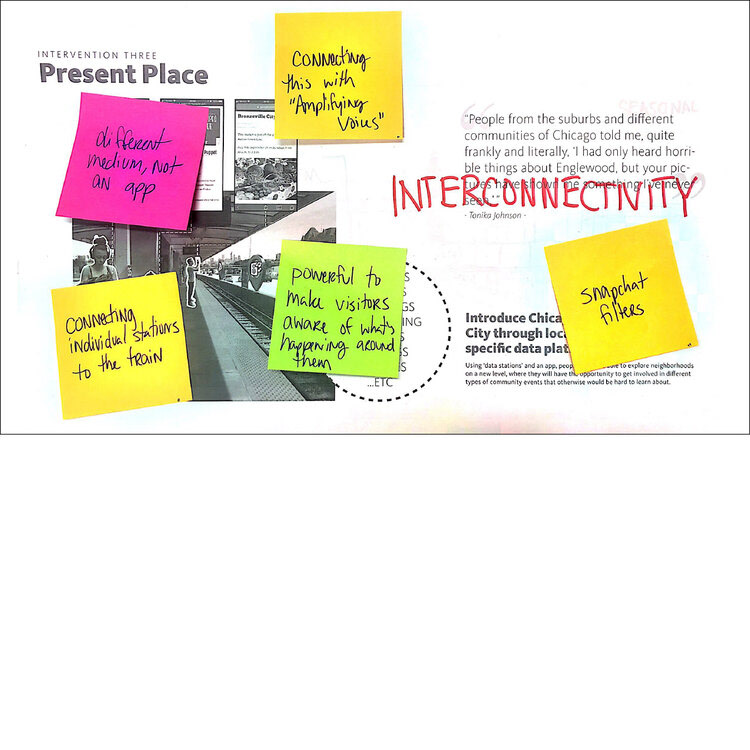 After synthesising the feedback, we began to redefine our mission. determining that our most thought provoking interventions related to enhancing inter-connectivity amongst communities, people, and information that was undeniably segregated.
Mission Statement

: Leveraging mobility to foster inter-connectivity between communities through a network of information and resources.
To further enhance the connection between our interventions and the research we conducted, we interviewed people of varying backgrounds and experiences in Chicago, Minneapolis, and Lacrosse. This helped us directly address their desires and how our final intervention could help piece them all together. 
(Refer the full research book for all 10 detailed interviews with community members.)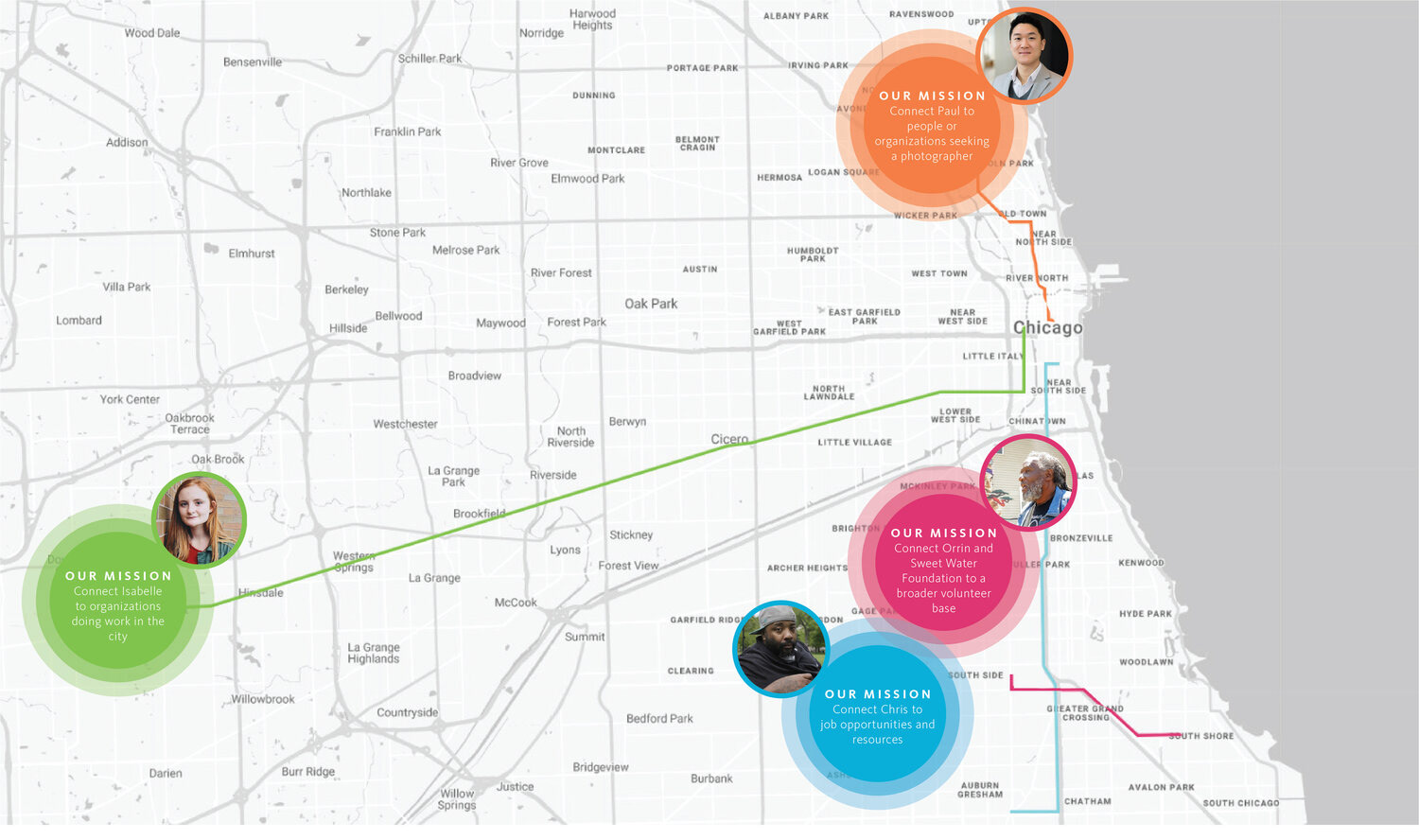 FAVOR connects the dots, bridging communities in a way policy cannot. Striving to connect every resident in the city to one another. Transforming the divided city into a community network centred around providing one another with a helping hand.  
PROMOTING DESEGREGATION

 Modern cities have become hubs of culture and knowledge. However, within this urban fabric, resources remain just as divided as the people. Public funds are often unfairly allocated. This segregation of resources and people inhibits progress and sustains stereotypes. 

PARTNERSHIP

Partnering with public transit systems in urban US cities, favor provides free transportation to and from volunteer opportunities. The partnerships also provide high visibility for advertisements and equal access to kiosks that will be installed in high traffic areas. 
HIGH A

ccessibility

In order to accommodate the various preferred channels of communication, favor has platforms that are available to all. These platforms include an app, a website, traditional print ads, and of course the most powerful form of communication; word of mouth. Partnering with public transit systems in US cities provides high accessibility to public kiosks as well, installed in high traffic areas.